Beijing Foundation Contractors Shanghai Jinghua Chun Picture
Article provenance:未知
Popularity:
Publication time:2019-09-25 14:45
After two days of pre-exhibition, the 2015 Spring Art Auction in Shanghai Jinghua has officially lifted hammers at Shanghai Shangri-La Hotel since today.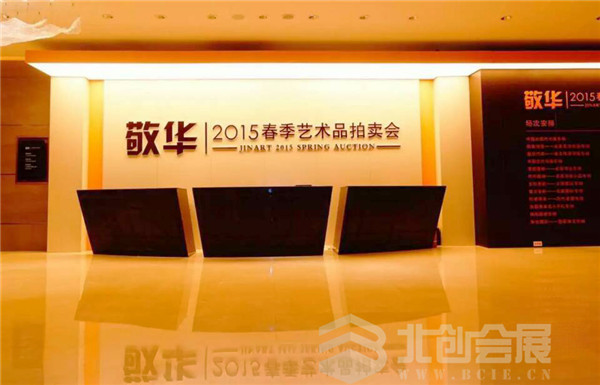 This season's auction gathers nearly 1500 pieces of fine works, including ancient Chinese painting and calligraphy, modern and contemporary painting and calligraphy, letters and letters from ancient books, oil painting sculptures, ancient and modern porcelain, purple sand, elegant play in literary houses, emerald jewelry and other major special events. Famous artists gather together to gather excellent works, which attracts much attention.
Beijing Beichuang International Exhibition Co., Ltd. has always been a sincere partner in Jinghua auction. The Beijing Beichuang Shanghai Exhibition Team has fully supported the opening of the spring 2015 auction of Jinghua.
From the pre-exhibition masterpieces to the splendid "Jinghua Hall", they have attracted the gathering of collectors and the flow of guests, which not only reflects the eye-catching performance of Jinghua's products this season, but also the excellent performance of Beichuang's high-quality service for customers as before.
Let's go into the scene and see the grand occasion.
Arrangement of auction venues in this issue
June 29th
Chinese Modern Painting and Calligraphy Workshop Begins at 10:00
Dark Fragrance Ling Language: Starting at 13:30 in the Famous Flower and Bird Painting Special Event
Seeing and Hearing: A Special Workshop on Inheritance of Calligraphy and Painting by Relatives and Friends Beginning at 14:30
The Chinese Ancient Calligraphy and Painting Exhibition Begins at 15:00
Brush and Ink Smooth-Celebrity Calligraphy Show Begins at 16:00
Close to the Earth --- Starting at 17:00, a special exhibition of famous calligraphers and paintings sketches
June 30th
Literary Play and Elegant Rhyme --- The Wenfang Elegant Play Specialty Begins at 10:00
Purple Jade and Golden Sand-Starting at 11:00 Celebrity Purple Sand Specialty
Precious Porcelain Beautiful --- Starting from 13:30 of the Special Session of Porcelain in the Past Dynasties
Ancient Books Show at 14:30
Oil Painting and Sculpture Specialized Event Begins at 16:00
Brilliant and Brilliant - Jadeite Jewelry Specialty Starts at 17:00
Venue: Jing'an Banquet Hall on the 5th floor of Shanghai Shangri-La Hotel